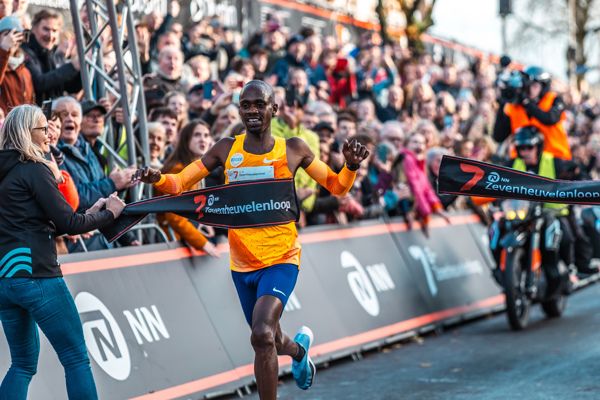 Kiplimo Breaks New World Record in 15km Race in Nijmegen
Ugandan cross-country champion Jacob Kiplimo made a triumphant return to racing at the NN Zevenheuvelenloop in Nijmegen on Sunday, matching the world 15km best at 41:05. After being sidelined with an injury, Kiplimo won the Cross Country Tour Gold meeting in Atapuerca and continued his success in Nijmegen, equaling the world best time set by his fellow countryman, Joshua Cheptegei, five years ago.
Kiplimo ran at a conservative pace throughout the race, taking into account the challenging 3.5km to 5km incline. Despite starting slower than Cheptegei's split, Kiplimo took the lead and extended it to 24 seconds at 8km before crossing the 10km checkpoint at 27:49, matching Cheptegei's split time. Kiplimo fluctuated slightly above and below the course record pace but ultimately finished with a 2:31 final kilometer, securing the 41:05 time. His compatriot, Rogers Kibet, held on to second place, making it a 1-2 finish for Uganda.
In addition to his success at the NN Zevenheuvelenloop, Kiplimo notched a 15km split of 40:27 during his half marathon world record in Lisbon in 2021.
On the women's side, world steeplechase record-holder Beatrice Chepkoech crossed