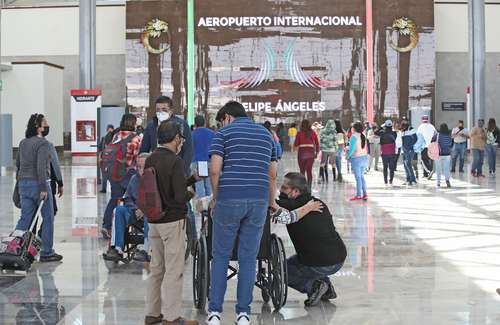 Give Suburban Access to AIFA Right of Way
The completion of the Suburban Train branch to the Felipe Ángeles International Airport (AIFA) has faced a significant hurdle in starting tests and being opened in the third quarter of 2024. President Andrés Manuel López Obrador, who has promised not to leave any work unfinished, is overseeing this final stretch of construction.
In an interview with Max Noria, director of Marketing for Suburban Railways, it was revealed that the right-of-way has been the primary issue, with only 80% cleared by September. The exact number of sections remaining to be released in the 15 kilometers where the company operates is unknown. However, it is expected that the project will be ready for testing sometime in the last quarter of this administration's term, allowing for potential operation to begin in the third quarter of next year.
The new deadline implies an extension of the previously mentioned June 2023 date for train operation. The construction project covers 23 kilometers, with eight located within Santa Lucía Air Base polygon and 15 in Tultitlán and Tultepec municipalities. In Tultepec's section, civil engineering work is ongoing to equip the branch line with catenary, electrical substation and signaling systems while other infrastructure such as trains are being acquired by Secretariat of Infrastructure Communications and Transportation.
As of September, the project was only 46% complete; however, workers were still working day and night by 77 machines and over 2 thousand workers determined to fulfill López Obrador's promise not to leave any work unfinished before he leaves office next year.