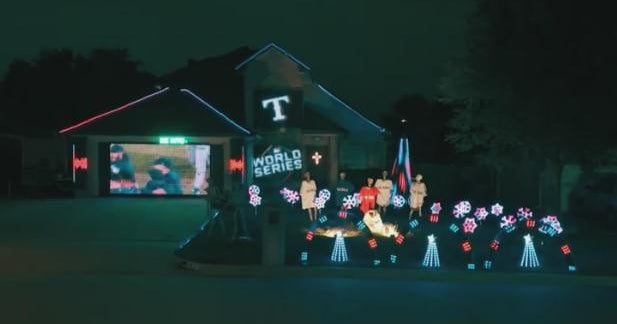 Family's World Series-Themed Christmas Decorations: A Texas Christmas Story
In North Richland Hills, Texas, a couple has transformed their home into a celebration of the 2023 World Series win by the Texas Rangers. Jesse and Angela Gonzales are avid fans of the team and have been decking out their home on Wisdom Way with lights and decorations for years. However, this year they wanted to take it to the next level and honor the biggest gift of the year – the World Series victory.
Their home now features scenes from the 2023 World Series, including iconic moments from the series, giant LED screens showing replays of key plays, and even jerseys on skeletons as an homage to Rangers past, present, and future. The entire show is choreographed to Post Malone's song "Congratulations," and their family says it was certainly their year to "Go and take it."
Jesse shared that he walks out every day and talks to big Ranger fans who come by to see their home. He said he wants people to experience the joy of reliving that moment again. Angela added that she was thrilled when her husband won over his wife after their first date at a Rangers game in 2013 and they got engaged a year later. They hope more people will stop by before their real Christmas decorations go up on Dec. 1st.
The couple's dedication to celebrating this achievement has brought joy not only to themselves but also to those around them in North Richland Hills.